HEBE LEAGUE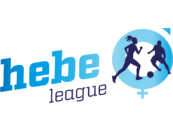 HEBE LEAGUE
Mixed-Gender Football
News Report
Report from Match Day 9
02/12/19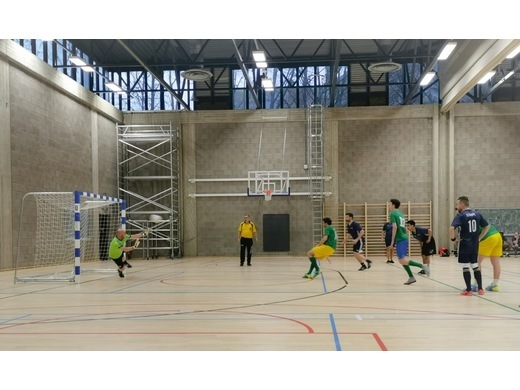 With only 10 points separating the first and last, Division 3 is by far the most contested and disputed championship of the HEBE League (for the sake of comparison, it's 20 points in Division 1, 19 in Division 2 and 17 in Division 4).
The result that best reflects this is the Black Turtles' win over A.C. Oronzo Canà, 10-6. A result that leaves Black Turtles at the bottom of the division, but only 6 points away from their opponents in 5th place, who were left scratching their heads. There was also a battle between strikers as Fabian Manning shelled no less than 6 goals past Oronzo Canà, bringing his total tally to 13 goals, one goal away from Gabriele Alaimo who responded in style with a quadruple, bringing his total tally to 14. But in the end, the 4 goals lead that brought the win for the Black Turtles is to the credit of Amaia Zabala, who scored her first goals for her team – and how important were they! There was another very important game at the bottom of the division between Los Patos Hermanos and Serdica, which Serdica won 9-4 thanks to 4 goals by Sofia Lopez and 2 by Kirsten Glennung. This gives a bit of breathing space for Serdica, who stand in 6th place and 3 points clear of the relegation zone, while the Patos Hermanos have a huge task ahead as they face Orcs, Oronzo and HueHue FC. They will no doubt count on Béatrice Ericson, who scored on her first appearance. At the top end of the division, Sofobeast United continued to put pressure on the promotion battle with a 4-1 win over Soloni FC, largely thanks to a double goal by Caroline Seoulou Gui. Sofobeast will be looking attentively at the result of the game between Serdica and Oronzo Canà next week. As for Zlote Ptaki, they rattled the cage of Eurotrash FC, with a 7-2 win. Down 7-0 at half-time, Eurotrash FC did come back with better intentions in the second half and the inevitable Audrey Varner, best female goalscorer of the division, scored her 10th goal of the season responding to Agata Dziarnowska's goal in the first half. And for the first time – possibly in history – Florian Katzgraber scored as many goals as Christian Roja in a single game. But the big surprise result was the defeat of the Orcs in Black at the hands of B United 5-2. Once again, Andromachi Bregkova showed how important she is to her team with a decisive double goal, combined with a double from Lukas Kienzle. Although Orcs safeguard their first place on goal difference with a game in hand over Zlote Ptaki, they also have HueHue FC breathing down their neck.
In Division 2, the two heavyweights Cyprus FC and Knackers continued their mano a mano. Knackers secured a very tight win over PIOLALIBRI 3-2, thanks to a double by Ibrahim Bah who responded to 2 more goals this season by Giampiero Faggionato. A defeat that maintains PIOLALIBRI in the relegation zone and they will need more goals by Giampiero to hope to stay in Division 2. Especially as the Legislators overcame FitNow! 6-5, giving them a 4 point lead over PIOLALIBRI. While Anis Ben Romdhane socred a hat-trick, Andre de Giorgi showed he was even fitter and celebrated a quadruple. On their side, Cyprus FC got the better of The Running Dead who ran until Jean-Jacques Pierard dropped a double, but as it happened many times this season, Dimitrios Philippas scored the hat-trick and secured a 4-2 win for Cyprus. 3 more goals that bring his personal total to 19. Behind the front runners, 3rd place remains as open as ever, with Red Star Brussels suffering their second defeat of the season against Atletico Belgique, 5-1. Alfonso Blanco and Raul Paramas both scored a double for Atletico. A second defeat for Red Star that played in the hands of Spider FC who entangled the Hairy Canaries in their web, 3-2. A narrow defeat for the Hairy Canaries, which means that their game next week against FitNow! is a make or break in view of staying in Division 2. Same goes for Casa del Mal who lost 3-0 to Los Chorizos Bionicos, with a double goal by Ana Egea. It will be a tall order for the Casa del Mal, who play Cyprus FC next week. As for Los Chorizos Bionicos, they join Spider FC, Atletico Belgique, The Running Dead and Red Star Brussels in the list of hopefuls for 3rd place promotion.
In Division 1, the Hangovers continued their impressive season and become the only team of the entire HEBE League not to have dropped a single point this season. It was a game of extremes yesterday, as they defeated Einsteinians 6-1 – but the Hangovers have a collective force with 5 different goal scorers including the tireless Clelia Casalino (2) and… Damien Magaud! While the title is getting closer and closer for the Hangovers, who have a 6 point lead over the 2nd, all is not lost for Einsteinians who play two direct opponents for relegation in the coming match days. 2 games where points will count double. Behind the Hangovers, AS Soreta got a very tight win over Survival of the Fattest 5-4, with a hat-trick on either side (Pierre-Henri Ligier for Survival and Marco Fusaro for AS Soreta). 3 crucial points and a 4th consecutive win for Soreta that topples the Fattest from their 2nd place. Right behind Soreta, the Treehuggers also confirmed their good form of the moment with a 3rd consecutive win over Placido's 6-2. For her second appearance, Sarah Buffet scored 4 and brought her total tally to 10 goals, equal with Hangovers' Clelia Casalino and Petra Söderqvist. If Soreta and Treehuggers draw next week in their 2nd place clash, and Hangovers beat Survival of the Fattest, the Hangovers will be crowned Division 1 Champions. In the fight for 2nd place, the Sheikhs of RDS, after a great start to the season, suffered a second consecutive defeat against Spartak Zizou, 5-4. A double goal by Catriona Rawsthorne secured the win for Spartak as she cancelled Kristine Vensava Goldmane's effort. A win that puts Spartak 3 points above the relegation zone, with a keen eye to the game between Einsteinians and El Santo Subito next week. In the middle of the table, Bananapbcoe stayed clear from the relegation zone with a 6-3 win over El Santo Subito, with Frank Casile scoring a hat-trick and Valerie C scoring a double. A third consecutive defeat for El Santo Subito, who could be in need for some divine intervention to avoid relegation.
Finally, in Division 4, The Eagles had a very good day. Their 19-2 win over ICF catapults them into 1st place, boasting the best attack (53 goals) and best defence (11 goals). 4 more goals by Pit Klein means he tops the goalscoring table with 15 goals. But The Eagles could also count on Joanna Kahiluoto and Nick Haaker with 4 goals each, and Charlotte van Brabandt and Wissam Laalilis with 2 each. A display that did not prevent Cristina Gonzalez Monsalve from scoring her second double goal of the season for ICF. The Eagles clinch first place at the expense of Sublime Porte, who dropped points against Binboga with an animated draw 8-8. Leading 4-3 at half-time, Sublime Porte saw the return of Binboga with 4 goals by Ezgi Kocyigit. But together, Kaan Altintas and Ismail Gezginer scored 2 quadruples that salvaged a point for Sublime Porte. In the fight for 3rd place, Expected Toulouse defeated La Famiglia 8-1, notably with a hat-trick by Augustyn Sidz. They benefitted from a draw between Brussels Spouts and Turx & Plux 3-3. In the fight for promotion, RMP FC got a decisive win over Arena BXL 6-5, thanks to a double by Nina Olesen and Martin Peev, who responded to Jordan Lama and Pietro Lama's doubles for Arena. At the bottom of the table, FC Ambiance Team secured their 3rd win of the season over La Vie Est Belge, 10-4, with 4 goals by Laurine Ekongolo Wedji and a hat-trick by Jawad Saddiki, who responded to Luca Tiberio's hat-trick for La Vie Est Belge. A win that brings them within 5 points of promotion.
And if there is one thing that is certain: in the HEBE League, everything is always possible.
So for next week, in Division 1, Treehuggers play AS Soreta for 2nd place and Einsteinians play El Santo Subito in the fight to avoid relegation. In Division 2, Knackers have a difficult game against Red Star Brussels in the fight for the title and Spider FC play Atletico Belgique in the fight for promotion. In Division 3, HueHue FC play B United in the fight for 1st place, while A.C. Oronzo Canà play Serdica in the battle for promotion. Finally, in Division 4, Brussels Sprouts confront Expected Toulouse for promotion, while The Eagles take on Arena BXL to cling on to their 1st place.
Follow the site to get the latest news and results straight to your email