HEBE LEAGUE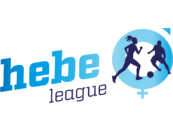 HEBE LEAGUE
Mixed-Gender Football
News Report
Report from Match Day 7
19/11/19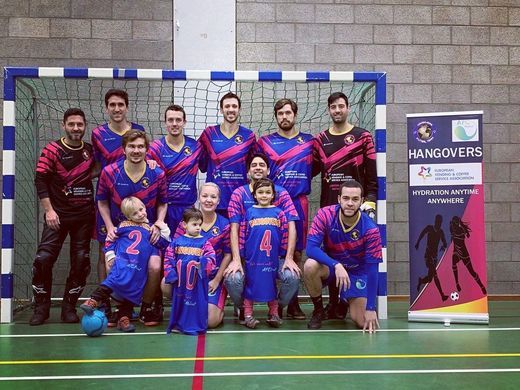 The Hangovers rose and shone on Sunday morning! They celebrated in style their immaculate new shirts with a 10-0 victory over FC Fig Puckers. Up 2-0 at half-time, they powered through the second half with 4 goals by Petra Soderqvist and another goal by Martin Costa, who joins Azdine Zizou as best male goal scorer for the division. After 5 games and as many wins, Hangovers take the lead of Division 1 with a game in hand. In the meantime, the Sheikhs of RDS dropped points and suffered a heavy defeat against the Treehuggers, 8-1. Treehuggers' Sarah Buffet scored no less than 6 goals, placing her team in the middle of the table, 2 points ahead of the relegation line but with a game in hand. At the bottom of the table, Placido's clinched the 3 points in a decisive game against Einsteinians. It was a tough battle, and Placido's can thank Otman Khanchouf Essabban for scoring the only goal of the game. Einsteinians, with the 3rd best defence in the division, are still looking for their first win and will be desperate to improve their scoring tally with only 5 goals in 5 games. At the top of the table, Survival of the Fattest regained their 3rd place that they had lost on the 13th of October, with a 4-2 win over Spartak Zizou. They survived and conquered by combining the efforts of 4 different goal scorers to secure their win.
In Division 2, the Legislators, boosted by their first win of the season over the Hairy Canaries, got their second consecutive win, this time over Atletico Belgique, 4-3. It was a hard-fought battle over the Belgian Colchoneros, but Lidia da Silva scored the double goal that sends the Legislators out of the relegation zone. For Atletico Belgique, it's a second defeat in a row but they stand safe in the middle of the table with 3 wins and 3 defeats. As for Hairy Canaries, they suffered another defeat at the hands of Red Star Brussels, 2-0, and remain bottom of the table. They are now the only team of the division that has not yet won a game, as Casa del Mal got the better of PIOLALIBRI in a very tight game that they won 5-4. The 2 goals by Rosa Esclapes must have felt evil in the PIOLALIBRI household. In the middle of the table, FitNow! beat Chorizos Bionicos 4-3, thanks to a hat-trick by Anis Ben Romdhane. Thanks to this narrow win, FitNow! are 3 points ahead of their opponents, which gives them a bit of breathing space ahead of their game against Cyprus FC next week. Cyprus FC who showed no sign of weakening, as they signed off another victory against Spider FC, 5-2, albeit with a lower goal average than usual. Cyprus FC are now sole leaders of the division, as Knackers lost their first points of the season to The Running Dead, 3-2. A strong performance by The Running Dead, who have resuscitated from 9th place to 4th place in 4 match days. Daniel Azevedo put 2 at the back of the net, recovering from being down 2-1 at half-time and a Knackers double goal by Mariem Hayouni.
In Division 3, the stakes are as high as ever and every game is a 6-pointer across the division. Serdica got their second win in a row and lift off out of the relegation zone, beating the Black Turtles 9-2. A team performance with 7 different goal scorers, including a double goal by Kirsten Glennung. An offensive display that puts Serdica in 2nd place of the topscoring teams. Black Turtles remain bottom, but still within reach of Eurotrash FC who were tightly defeated by A.C. Oronzo Canà, 4-3. The double goal by Fanny Tissier was not enough to keep in check Oronzo Canà's Gabriele Alaimo, who is topscorer of the division. After a positive run with 2 wins and a draw, Cercle Curie KSV did not find the magic cure against the infectious Sofobeast United. An 8-1 win with 6 different goal scorers, including doubles by Marjan Verhaegen and Caroline Seoulou Gui. B United got their first clean sheet and second win of the season, thanks to goals by the inevitable Andromachi Bregkova and a hat-trick by Niklas Juhl. After an encouraging 2 wins and a draw, Los Patos Hermanos head back to the water with their beaks hanging low as they sit just above the relegation line, on goal difference. But with 5 teams on 7 points half-way through the season, everything remains open! At the top of the table, the tables are turning at every gameweek. Orcs in Black did not miss their chance to confirm their lead with a 6-4 win over Soloni FC. Despite a double goal by Anna Laura Pol, Soloni was not able to contain the Orcs' killer striker Sabino Ceglia who, with his hat-trick, is now second best goalscorer in the division. A victory that gives the Orcs a 4 point lead over Zlote Ptaki who managed to hold on to a 1-0 lead at half-time against HueHue FC, thanks to a goal by Christian Roja. A clean sheet preserved by Florian Katzgraber, which confirms that Zlote Ptaki is the best defence of the division and that defensive football can be worth gold! But with Zlote Ptaki, HueHueFC and A.C. Oronzo Cana all on 12 points, the battle for promotion is on!
In Division 4, Turx & Plux continued their good form with a 5-2 win over La Famiglia. They secure 3rd place at the expense of Brussels Sprouts who forfeited against Sublime Porte. In 2nd place, The Eagles also showed they are a team to contend with, blasting La Vie Est Belge 11-1 with an all-round team performance. With 2 more goals, Pit Klein carried his total tally to 11 goals, but Charlotte van Brabandt, Mirlinda Gorqaj and Aurora Hoxha also all scored 2. The Eagles are the second top scoring team with 34 goals, just behind Expected Toulouse who split points with Arena BXL 1-1. Oddly enough, 1 point separates every team between Arena BXL in 7th place and Sublime Porte in 1st place. A good way to learn algebra! FC Ambiance Team got their second win of their young HEBE League history against Binboga. From 4-4 at half-time they managed to win 8-6, with 2 goals by Laurine Ekongolo Wedji. At the bottom of the table, ICF suffered another defeat at the hands of RMP FC, 6-4. Things were looking difficult at 4-1 down at half-time, but ICF did come back strong in the second half scoring 3, including 2 by Cristina Gonzalez Monsalve. But it was not enough to get past RMP's Nina Olesen's 4 goals.
Next week, the stakes will be high again as Eurotrash FC (11th) meets Cercle Curie KSV (10th) in Division 3, as FitNow! (7th) will be looking to upset Cyprus FC (1st) in Division 2, and FC Fig Puckers (10th) will be looking to get past El Santo Subito (8th) in Division 1. Division 4 will take a rest.
Follow the site to get the latest news and results straight to your email