HEBE LEAGUE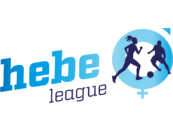 HEBE LEAGUE
Mixed-Gender Football
News Report
Report from Match Day 6
28/10/19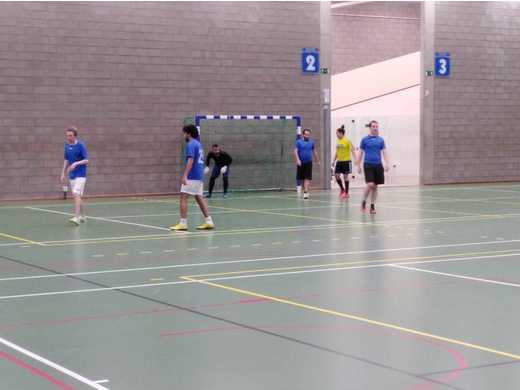 In Division 2, the Knackers and Cyprus FC continued their sans-faute. Relegated from Division 1 last season, Knackers are showing that they have every intention of seizing the first return ticket available. With 2 more goals by Juliana Costa Gomez, who is best female goalscorer of the division, and a hat-trick by Nathaniel Demars, they won 9-3, giving little chance to FitNow!, who were in confidence after two consecutive wins. As for Cyprus FC, they blasted their way past Atletico Belgique 8-1 thanks to their 2 power-strikers Evangeli Bangura (3) and Dimitrios Philippas (4). Dimitrios is scoring at an astonishing pace of 3.2 goals per game. If both teams continue on this rhythm, the last game of the season between them will prove to be something of a Division 2 final! At the other end of the table, the historic derby between Hairy Canaries and Legislators went in favour of the Legislators, who hammered 7 goals into the net, including 2 by Federica Bruno. Both teams were desperate to secure their first victory, just like Casa del Mal who fought long and hard against Red Star Brussels. The score was even at half-time (2-2), but the ex-Division 1 side got the better of the House of Evil in the second half, closing in at 4-2. Red Star sits in 3rd place and looks poised for climbing back up to Division 1. In the middle of the table, Spider FC reassured itself after 2 consecutive losses with a very tight win 2-1 against Los Chorizos Bionicos. They earn 4th place on goal difference, just ahead of The Running Dead who mortified PIOLALIBRI 7-3, with 2 goals by Zita Csoka. Francesco Passiatore's hat-trick was not enough for PIOLALIBRI, who sit just above the relegation line - but there are still many more chapters to be written as the story unfolds...
In Division 1, AS Soreta continued their climb back up the table with a 6-1 win over Bananapbcoe. Once again, Momo Zubiria found the back of the net, as did Alessando Scuncio for the hat-trick. At the bottom of the table, the Einsteinians are still looking for their first victory as they were defeated by Spartak Zizou 5-1. At the top of the table, the Hangovers maintained the pressure with yet another victory over El Santo Subito 4-0, thanks to 2 goals by their striker Martin Costa. With a game in hand, the Hangovers are biting at the ankles of the Sheikhs of RDS who keep the honorific 1st place of Division 1, with a hard-fought 6-4 win over Survival of the Fattest. 2 hat-tricks by Gianlucia Fugone and Azdine Zizou had the fattest running slim, and placed the Sheikhs at the top, with Azdine Zizou also leading the male goal scorers' table with 11 goals.
In Division 4, Pit Klein confirmed his good form after his hat-trick last week, scoring 4 past FC Ambiance Team and leading The Eagles into 3rd place with an 8-1 win. The Eagles are a point ahead of Expected Toulouse, who secured a comfortable victory 8-0 over ICF, thanks to 2 more goals by Justine Libioulle. Justine leads the goalscorers' table with 10 goals, just ahead of Pit Klein with 9. La Famiglia, who was demoted from Division 3, thought they had the game in hand at half-time against Sublime Porte as they were leading 2-1. But they let the door open in the second half, and two quadruples by Ismail Gezginer and Kaan Altintas left the Famiglia in turmoil, despite a hat-trick by Grega Grobovsek. After having had points removed following an incident last week, Sublime Porte were keen to take the 3 points, and with the win, maintain their 1st place. They earn it on goal difference over Brussels Sprouts, who defeated Binboga 11-1, with 4 goals from Pauline Guibbaud and a hat-trick by James Langmead. In the middle of the table, Turx & Plux and Arena BXL tied 4-4. Turx & Plux can thank Leyla Mals for her two goals, which maintain her team 2 points ahead of their opponents. Finally, La Vie Est Belge was forfeit against RMP FC.
In Division 3, the tables turned in a series of exciting twists and turns! Serdica got their first win of the season after conceding 3 very tight defeats. They got the 3 points with a 4-1 win over Eurotrash FC, and 2 goals by Sofia Lopez. 3 very welcome points that put Serdica just ahead of B United in the rankings, who lost 6-1 to Soloni FC. B United did not withstand the firepower from Alessadro Orlandi who carried his Soloni team-mates forward with a hat-trick. In the middle of the table, AC Oronzo Cana tamed the Sofobeast United with a narrow 2-1 win, and 2 goals by Gabriele Alaimo. Gabriele leads the goalscorers' table with 8 goals. Los Patos Hermanos confirmed their good form of the moment with a 4-1 over the Black Turtles. David Arzul scored 2 for the ducks, whose bite proved tougher than their opponents' shell. But the big drama arose at the top of the table, with a grandiose clash between Orcs in Black and Zlote Ptaki. Dominated 1-3 at half-time, the Orcs jumped out of the water in the second-half with 2 decisive goals by Virginie Gillard to win 4-3. What a come-back by the Orcs! And their effort was worthwhile as in the previous game, HueHue FC, who were so far undefeated, were surprised by Cercle Curie KSV who scored 4 goals in both halfs. Milan P left a very strong impression, squaring the circle with no less than 5 goals. This victory not only brings Cercle Curie KSV back in the game as they sit 2 points away from 3rd place, but it also means HueHue FC loses their first place to the Orcs in Black. Zlote Ptaki come 3rd, after a second bitter defeat. More than any other division, Division 3 is proving to be the most strenuous and there will be no easy win!
And now, all eyes are on Hallowe'en… and The Running Dead!
Follow the site to get the latest news and results straight to your email