HEBE LEAGUE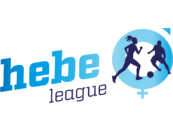 HEBE LEAGUE
Mixed-Gender Football
News Report
Report from Match Day 4
16/10/19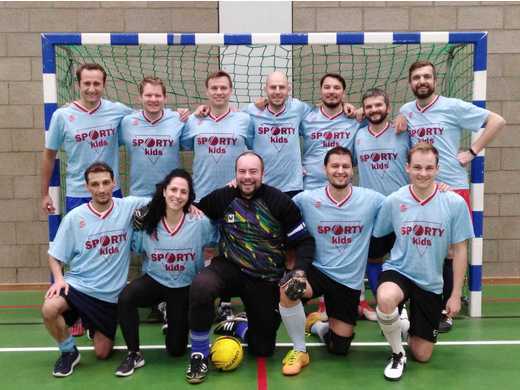 In Division 3, like in Division 1, every team has scored at least one point. This shows how disputed every game is and there are no easy wins. After two initial defeats, Los Patos Hermanos shook their duck feathers as if coming out of the Flagey lakes and inflicted their second defeat to Eurotrash FC, 9-5. Alisha Sesum from Patos kept in check the strikes by Eurotrash's Audrey Varner and Fanny Tissier, giving a comfortable lead to her team. Like the Patos, the Black Turtles also broke out of their shell with their first victory over Sofobeast United, and it was Fabian Manning's day as he scored all 4 goals to secure their win 4-2. At the top of the table, HueHue FC, who promoted from Division 4, continue to impress with a third consecutive win, this time over Serdica. Despite a comeback in the second half from 0-2 at half-time, having conceded a goal by Nathalie Meyer, Serdica signed off with a 3-2 defeat and are now bottom of the table. Zlote Ptaki (featured) continued their winning streak but it was not without a fight. Up only 2-1 at half-time, they held on strong and finally won 3-1. But the big clash was between A.C. Oronzo Canà and Orcs in Black, both teams undefeated at the start of the game. The clear win 4-1 by Orcs in Black sends a signal across the division that they're on a mission to promotion, but they are yet to face Zlote Ptaki and HueHue FC. With 6 teams on 3 points, the division "middle class" is as open as can be.
In Division 2, FitNow! who gained their second promotion in a row, secured their second win of the season at the expense of ex-division 1 team PIOLALIBRI, and despite a hat-trick by Jacopo Bordigon. No doubt the goal by Amélie Birot came as a big relief to the FitNow! team. After a slow start, FitNow! sits comfortably in 6th place and overtakes their opponent of the day. After having dropped points against the Knackers, Atletico Belgique came out victorious of the Hispanic derby against Los Chorizos Bionicos. Leading just 1-0 at half-time, they managed to clinch victory despite two goals by Daniel Gordons. Red Star Brussels did not make the life of the Legislators any more pleasant over the weekend, with a clean 6-1 victory, aided by a goal from Eliana Gomez and a hat-trick by Miha Vidic. Things also got hairy for the Canaries against Cyprus FC, as they lost 5-1, thanks to a hat-trick by Evangeli Bangura and yet another goal by Dimitrios Philippas, bringing his total to 12 at the top of the goal scorer's table. The game between the Legislators and the Hairy Canaries looks promising, as both historic teams look for their first win of the season. Joining the top of the table with Cyrpus, Knackers secured their 4th consecutive win against Spider FC, but it was won in true HEBE League style with a goal by Mariem Hayouni and a double goal by Juliana Costa Gomez who leads the women's bet goal scorers table. Spider FC go down with a second defeat, but they have shown they are a force to be reckoned with. In the middle of the table, The Running Dead secured their second victory of the season over Casa del Mal with a 2-0 win.
In Division 1, Bananapbcoe crushed the hopes of a second victory by Spartak Zizou, with a goal by Valerie C putting Bananapbcoe in 4th place. El Santo Subito came out on top of AS Soreta in the Italian-infused derby, despite two goals by Momo Zubiria for Soreta. But Jose Wady with a hat-trick and Guillermo Pascual Miguelañez with 2 goals got the pinks the win 5-4 over the defending champions and a 5th place in the rankings. Survival of the Fattest were looking for their 3rd consecutive win but finally split points with the Treehuggers in a goal festival 6-6, led by Survival's striker Vlad Hosu with a hat-trick. In the middle of the table, FC Fig Puckers got their first win over Placido's 7-2, with another goal by Houane Rolande Tokpoledo, bringing her total to 6 this season. At the top of the table, the Sheikhs of RDS did not miss the occasion of clinching first place over the Hangovers (who have a game in hand), with a 3-1 win over the Einsteinians. With his 8th goal of the season, Azdine Zizou joins Martin Costa from Hangovers at the top of the male goal scorers' table. With 4 teams still with a game hand, it's hard to make any clear observations but Division 1 looks as disputed as ever, with all teams except Einsteinians having at least won one game.
In Division 4, Sublime Porte left little chance to ICF with a 11-1 victory, confirming their clear intentions not to dwell in 4th division for too long and are the only team with 3 wins out of 3. Hibo Mohammed led the charge with 4 goals, bringing her total to 8 in the season. Arena BXL inflicted their first defeat on the Brussels Sprouts 4-1, with a hat-trick by Michael Pecorella. Expected Toulouse got their first win of their young HEBE League history in style, blasting FC Ambiance Team 15-2 thanks to a quintuple by Andreas Gahleitner, a quadruple by Daniel Westrik and 4 by Justine Libioulle. La Famiglia still go undefeated as they got the better over Binboga in a tight game, won with a decisive goal by Bruna Campos who brings her total to 6. In the middle of the table, The Eagles drew with RMP FC 3-3, a goal by Maria Paz de la Cuesta de los Mozos saving the day for the RMP. And Turx & Plux secured a win 7-4 over La Vie Est Belge, which pushes them into 4th place. La Vie Est Belge, ICF and FC Ambiance Team have yet to gain their first points of the season on Sunday.
Coming up in the HEBE League on Sunday: Sublile Porte vs. Arena BXL in Div 4, AC Oronzo Cana vs. HueHue FC in Div 3, Hairy Canaries vs. Legislators in Div 2, and FC Fig Puckers vs. AS Soreta in Div 1.
Follow the site to get the latest news and results straight to your email