HEBE LEAGUE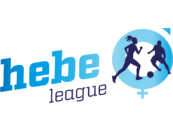 HEBE LEAGUE
Mixed-Gender Football
News Report
Report from Match Day 1
23/09/19
It was the opening of the Hall des Sports FSM at ULB Erasme to the HEBE League.
The inauguration match was won 9-1 by Orcs in Black over Black Turtles. In the other games of Div 3, promoted Sofobeast United beat 6-2 Los Patos Hermanos, who were relegated from Div 2 last season. In an intense game, B United drew with Serdica 5-5, thanks to their powerhouse goalscorer Andromachi Bregova. Zlote Ptaki left little chance to Cercle Curie KSV with a 4-1 win, while HueHue FC continued their winning streak from Div 4 by beating Eurotrash FC 3-2 in a close contest.

In Div 2, Cyprus FC seem to have lost nothing of their Cup-winning style with a convincing victory over Chorizos Bionicos 7-0. They are closely followed by Red Star Brussels who relegated from Div 1 last season and did not miss their chance of scoring points and goals against the freshly promoted FitNow!. Narrow wins by Atletico Belgique vs. Casa del Mal in the Spanish derby, Knackers over Legislators in the derby of the historic teams, and Spider FC over The Running Dead complete the top of the table. PIOLALIBRI and Hairy Canaries closed the day with a 3-3 draw.
In Div 1, it was a question of win or lose. A tight game between Spartak Zizou and the Hangovers saw the latter clinch the win. Despite a hat-trick by David Vasquez for Spartak, a goal by Petra Soderqvist got the Hangovers to cross the winning line. Survival of the Fattest confirmed their good season last year with a 4-1 win over Bananapbcoe. The Sheikhs of RDS also went off to a cracking start with a win over El Santo Subito 7-3, while the Treehuggers beat the FC Fig Puckers in a tight 3-1 contest. What promised to be an exciting game between AS Soreta and Placido's sadly went to a forfeit win for AS Soreta as the car-free day got the better of the Placido's.
Finally, in Div 4, new team Expected Toulouse finally did against RMP FC, but they did not go out without a fight (4-3). After a tough season, Brussels Sprouts got a win against La Vie Est Belge 5-3 thanks to a goal by Pauline Guibbard. The Eagles won and kept a clean sheet 2-0 against Turx & Plux, while Sublime Porte (old new team) won by forfeit against (new new team) FC Ambiance Team.
The competition resumes next week with some promising games: Hangovers v Placido's in Div 1, Red Star Brussels v Cyprus FC in Div 2, AC Oronzo Cana v B United in Div 3 and Sublime Porte v La Vie Est Belge in Div 4!
Follow the site to get the latest news and results straight to your email