HEBE LEAGUE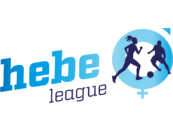 HEBE LEAGUE
Mixed-Gender Football
News Report
HL 25 - Report from Match Day 2
Author: Jean-Paul Judson, 10/02/20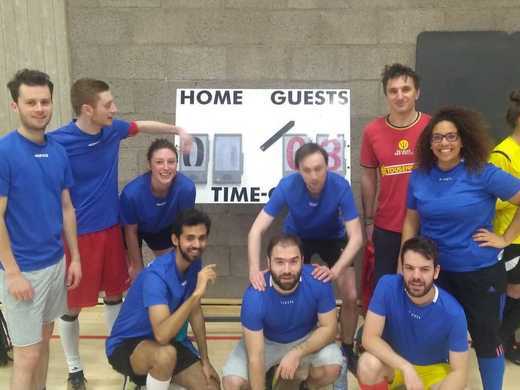 3 new teams inaugurated their HEBE League career: the Benchwarmers, Futsal Croatia BXL and the Schaerbeek Bombers! We wish them welcome and good luck!
Yes, it's always a special moment when new teams have their first game in the HEBE League. Every new team is a surprise in the making for Division 4, so how did they fare on Sunday?
The Benchwarmers were up against the Black Turtles, who relegated from Division 3 and had little intention of giving them a warm welcome. It was a disputed game but the Black Turtles held strong to claim a 2-1 victory. A promising start for the Benchwarmers! It was tougher for Futsal Croatia BXL, who played the Brussels Sprouts, a team with a long history in the HEBE League. Despite a double by Andrija Dominikovic, Futsal Croatia suffered a 6-2 defeat with Hamid Slato leading the way for the Sprouts with a quadruple. The only team of the newbies who managed to salvage a point was the Schaerbeek Bombers, who tied 2-2 with Binboga. Benedetto Martini and Matteo Frangi will go down in history as the first Bombers to score. In the other games, Soloni FC recovered from the relegation of the previous season with an 11-4 win over ICF. A quadruple by Astrid Conem, a hat-trick by Massimiliano Paraponiaris and a double by Kevin Pento all helped to push the Solonians to the top of the division, with a strong goal difference. Pierre Flandrin with a double did keep the hopes up for ICF, but it was too big a gap to fill. La Famiglia (featured) claimed the three points and kept a clean sheet against La Vie Est Belge, with Bruna Campos scoring a double. Finally, RMP FC dominated FC Belgium BXL (ex FC Ambiance Team) with a 5-3 win, largely thanks to a long range shot and hat-trick by Alberto Neidhardt. Mickaël did keep the flame of Belgium alive with a double, but RMP did not melt down and held onto their advantage.
In Division 3, 4 games were taking place, to complete the first 2 games of last week. Both promoted from Division 4, Sublime Porte grounded The Eagles 4-0, with two doubles by Hibo Mohamed and Hamza Touil. 4 goals and a clean sheet that puts them on equal points with the Hairy Canaries, in 2nd place. Arena BXL, another promoted team, played a very disputed game against Cercle Curie KSV, winning by a very tight margin, 3-2. Footage of their goals, including a skillful goal with the rear end, can be found on the Instagram account. The Champions of Division 4, Turx & Plux, were up against Los Patos Hermanos, who were looking for lift-off after a season where they flirted with relegation. Leading 2-0 at half-time, the Patos thought they had the game in the palm of their hands, but that was not to count on the Turx & Plux wake-up call in the second half, notably led by Soner Dz with a double. The final score, 4-2, maintains the Turx in their good dynamic of last season. Interestingly, 4 of the top 5 teams were promoted from the inferior division, which shows how open division 3 will be! As for PIOLALIBRI and Casa del Mal, both teams were looking for a fresh start to their HL 25 campaign, after their relegation last season. Back then, Casa del Mal had registered their only win of the season against PIOLALIBRI, but this time their encounter led to an exciting 3-3 draw, with Michael A for Casa del Mal responding to Andrea Ranaldo's double for la Piola. Split points, but shared dreams!
In Division 2, The Running Dead confirmed their good start to the season. This time, they came back from 1-0 down at half-time against FC Fig Puckers, to finish the game at 3-1, with a double by Daniel Azevedo. A strong win against a side that relegated from Division 1 last season. Einsteinians, one of the heavyweights of the division, came up against Serdica. It was a tough battle but Einsteinians claimed the 3 points with a 2-1 win. After two games, Serdica is the only team not to have clinched a point, which shows that Division 2 holds a lot of promise moving forward. Especially as Serdica lost both games by only one goal, meaning they will be ready to upset other teams as the season unfolds. After having lost their first game, B United went back to their winning ways of last season, this time inflicting an 8-2 defeat on Atletico Belgique. Lukas Kienzle scored a quadruple, supported by two doubles from Issam Al Karkouri and the inevitable Andromachi Bregova. Jaime Lozano did respond with a double for Atletico, but not enough to match the firepower of B United, who have the second best attack, equal with… Atletico Belgique. Sofobeast United, after their narrow loss last week, were up against the Champions of Division 3, Orcs in Black. Both teams were kept in check, with Jimmy Ariza for Orcs responding to Mario Tomillo's double for Sofobeast. A 3-3 draw that keeps the Orcs in the game and puts Sofobeast out of the relegation zone – although it's still early days to speak of promotion and relegation. As we could see in the game between Red Star Brussels and Legislators, two heavyweights coming head to head, with the Legislators eager to recover from their initial 5-0 shock defeat. It was a spectacular game, with 14 goals scored, 7 on each side. Andre De Giorgi claimed a quadruple and Federica Bruno a double for the Legislators, but Red Star Brussels responded like-for-like with two doubles by Leo Cailleau and Miha Vidic. Another exciting draw took place between Zlote Ptaki and FitNow!, with both teams looking to claim their first points of the season. But for the second time, Zlote Ptaki were overturned in the second half. Up 2-1 thanks to a double by Maria Papadopoulou, they saw FitNow! coming back in the second half. This time, at least, they salvaged a point. And in the HEBE League, as with a leading UK retailer, every little helps.
In Division 1, there were some incredibly spectacular and tight games. The Hangovers continue undefeated in their encounter with the Treehuggers, a clasico between two teams who have never relegated from Division 1 and who know each other by heart. But the Hangovers, who were up 3-1 at half-time thanks to a double by Clelia Casalino, held onto their lead and secured a 4-2 victory, despite a double by Fred Joao Maier for the Treehuggers. At the top of the table, Cyprus FC showed some strength against another historic team that has never been relegated: El Santo Subito. Both teams were tied 0-0 at half-time, and El Santo Subito even came back to 1-1 with 3 minutes to go. But straight after having equalised, Cyprus FC went back into the lead, claiming a 2-1 win and a second consecutive victory. The third heavyweight, A.S. Soreta, secured the largest victory of the gameweek, getting the better of the Knackers, 5-0. But the score does not reflect a disputed game, with Soreta only up 1-0 at half-time. Once again, it's Momo Zubiria with a double, who put Soreta in the comfort zone. In the middle of the table, Los Chorizos Bionicos were up against Bananapbcoe, both teams aiming at claiming their first points. It was a spectacular encounter and undecided until the end. Tied 4-4 at half-time, Bananapbcoe found the necessary resources to clinch the 3 points. The legendary Raphael Mahfoudh responded to Mariano Guillén's hat-trick, but it's Marion B who finally got the essential double for Bananapbcoe. A sour defeat for the Chorizos, although their goal difference keeps them afloat, above the relegation zone. As for Spartak Zizou overturned a difficult situation against Survival of the Fattest. Up 3-2 at half-time, Survival were stunned by Spartak Zizou in the second half, losing the game 6-5. The hat-trick by Vlad Hosu and double by Kaliana French were not enough to keep their head above water, while Spartak resuscitated, even saving a decisive penalty. Finally, the game between Spider FC and the Sheikhs is currently under review by the HEBE League Sanctions Committee.
See the photo album for Match Day 2 here.
Follow the site to get the latest news and results straight to your email