HEBE LEAGUE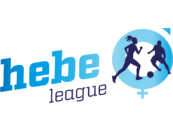 HEBE LEAGUE
Mixed-Gender Football
News Report
HL 25 - Report from Match Day 1
Author: Jean-Paul Judson, 03/02/20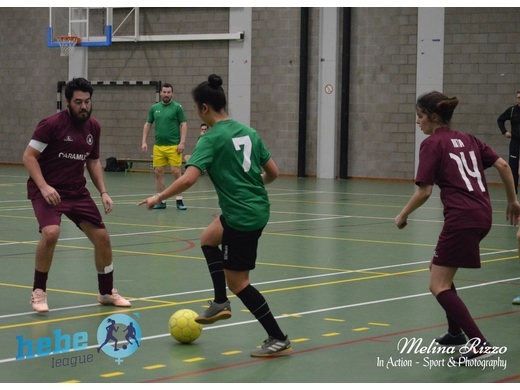 It was a tough start for the teams that promoted to Division 1. All except for the Champions of Division 2, Cyprus FC. Still surfing on their undefeated streak from last season, they overcame the lion's cry of Bananapbcoe, 5-2. A double by Stalo Papalouca and Aidan Sebarrh got the Cypriots into the lead, never to be caught again. Freshly promoted Los Chorizos Bionicos did more than just resist against A.S. Soreta. Tied 1-1 at half-time, both teams were pushing in the second half and it's a double by Andrea Guglielmi that finally secured a 3-2 win for Soreta, and 3 welcome points. Likewise for Knackers, who fought for survival against one of the largest obstacles in the division: the Survival of the Fattest. Tied 1-1 at half-time, Survival showed their mental and evolutionary strength, as Sophie de Laet and Mohamed Elzarei both got a double to clinch the win 4-1. It was a much tougher start for Spider FC against the Treehuggers, however, with a 15-1 defeat. But as they say: better to lose 15-1 once than 15 times 1-0. Treehuggers were insatiable, with Wasana Singharach (featured) scoring no less than 8 – sending her straight into the favourites for best female goal scorer – JP Judson scoring a hat-trick, and both Ryan Titley and Fred Joao Maier with the double. An all-out collective performance that pushes the Treehuggers into first place, on goal difference. Right behind them, The Sheihks continue to impress, even as they drop the Kingdom of the 2 Sicilies for a more staightforward, and less geographically confusing, name. In a classic encounter with El Santo Subito, who have just secured a sponsorship with Tipik Communication Agency, the Sheikhs came out on top with a 7-1 win. A hat-trick by Azdine Zizou, their best goal scorer from the previous season, and a double by Maria Gialama sealed the final victory. As for the defending champions, the Hangovers, they were up against Spartak Zizou and despite having had little time to recover from their title celebrations, they continued on their positive streak with a 6-1 win. Two doubles by Horacio Henriquez and Mathis Haribou (including a beautiful goal on an assist by Petra Soderqvist) carried the Hangovers over the finish line with the 3 points.
With 2 teams that relegated from Division 1, and 5 teams that promoted from Division 3, Division 2 looks like an open and promising division. The Running Dead made a lively impression, stopping the Legislators dead in their good tracks of the previous season, with a 5-0 win. Carried by Fabio Barbosa who scored a double, and a strong defence that kept a clean sheet, The Running Dead are first to take first place. Behind them, Atletico Belgique overcame FitNow! with 4 decisive goals by Alfonsa Larragione and a double by Sofia Marin. Without their two female players, it would not have been the same game! On the FitNow! side, Charly scored the double, as did Amélie Birot. The two heavyweights from Division 1 also confirmed their status. The Einsteinians confronted B United, a team that had not been defeated since October. Despite a tight first half, where both teams were tied at 1-1, the Einsteinians managed to contain the B United power strikers Niklas Juhl and Andromachi Bregova, and finally found the solution thanks to a double by Marta Gutierrez Benet. The final score was 5-2, which places the Einsteinians in 3rd place. As for FC Fig Puckers, they were playing Sofobeast United, the last team to promote from division 3. And Sofobeast certainly gave the Puckers a run for their money! But the Puckers held strong in defence, and celebrated their victory with a single goal by László Arató. The Champions of Division 3, Orcs in Black, were playing Serdica who promoted in 4th place for a familiar start to their first ever Division 2 campaign. They battled hard to topple the Orcs, but just fell short, losing 6-5 despite a quadruple by Sofia Lopez. On the other side, though, Antonio Suarez Bustamente kept the Orcs afloat with a hat-trick. As for Zlote Ptaki, they really thought the early bird catches the worm. Galvanised by their promotion, they spurred into action in the first half, taking a 2-1 lead thanks to a double by Maria Papadopoulou. But Red Star Brussels finally saw the light in the second half, claiming a 4-3 win thanks to a double by Eliana Gomez. A frustrating yet promising start for Zlote Ptaki, and a reminder to all teams that no victory comes cheap.
In Division 3, only two games took place. Relegated from Division 2, the Hairy Canaries took their time to build their 4-0 win over HueHue FC. Stuck at 0-0 at half-time, Guillermo Borragan Pedraz and Daniele Springhetti both jumped out of their cage to score a double. In the other game, Expected Toulouse celebrated their first game in Division 3 with a decisive win 6-2 over A.C. Oronzo Canà. Up 4-1 at half-time, they never really expected to lose, with both Michela Zabaglia and Alex Aguirre-Hellinx scoring a double to ensure that losing was not an option.
Next week, Division 4 and the rest of Division 3 comes into play!
Follow the site to get the latest news and results straight to your email